CitiClean
Professional Dry Clean, Shirt Services & Tailoring in London
Citi Clean was founded in 1982 driven by the lack of high quality, non-aggressive and eco-friendly dry cleaning solutions in London. Since inception, we have been dedicated to providing reliable services at efficient and convenient timescales. We are a 'one stop solution' for anything cloth related, using technology that is kind to your cloth as well as to the environment.
Dry Cleaning Services
Since 1982, Citi Clean has been providing a comprehensive range of dry cleaning services for personal, household, and corporate items and materials. They utilize state-of-the-art machines and employ trained professionals known for their expertise in stain removal. Citi Clean takes pride in their quick turnaround and convenient service, ensuring customer satisfaction.
Shirt Services
At Citi Clean, customers can rely on their top-notch shirt cleaning services. All shirts are meticulously cleaned using high-quality washing detergents and softeners, and finished with a modern shirt press. Their skilled staff pays special attention to cuffs and collars, offering personalized specifications. Customers have the option to choose hangers or hand folding, with the latter being particularly popular among travelers.
Laundry Services
Citi Clean specializes in eco-friendly green earth laundry cleaning. They prioritize exceptional results for their customers while taking care of the environment. Using high-quality washing detergents and softeners, their laundry service covers a wide range of items, including bed linen, tablecloths, mattress covers, valences, personal items, and everyday wear.
Repair & Alteration Services
For all repair and alteration needs, Citi Clean is the go-to choice. Their experienced tailors are equipped with modern and traditional techniques to handle various repairs and alterations. They take pride in leaving clothes looking as good as new, whether it's resizing or fixing missing buttons and broken zips.
Curtain Services
Citi Clean excels in curtain cleaning, ensuring no shrinkage through delicate cleaning, proper drying time, and the use of high-quality machinery. They stand out with their leading curtain finishing machine, a rarity among dry cleaning companies in the UK. Offering pick-up and delivery services across London, Citi Clean's specialist curtain service is a popular choice.
Shoe Repair Services
With their team of specialist cobblers, Citi Clean offers expert shoe and boot repairs for both men and women. Alongside their repair and cleaning services, they provide a range of established shoe care accessories that not only enhance the shine but also maintain the material, color, and shape of the footwear.
Key Cutting
Citi Clean extends their services beyond dry cleaning, boasting locksmiths with over 20 years of expertise in cutting a wide range of keys. From regular household mortice and cylinder keys to security keys and window keys, they can handle key cutting for almost any requirement. With quick turnaround times, customers can have their keys cut while they wait. Contact Citi Clean for more information on their reliable key cutting services.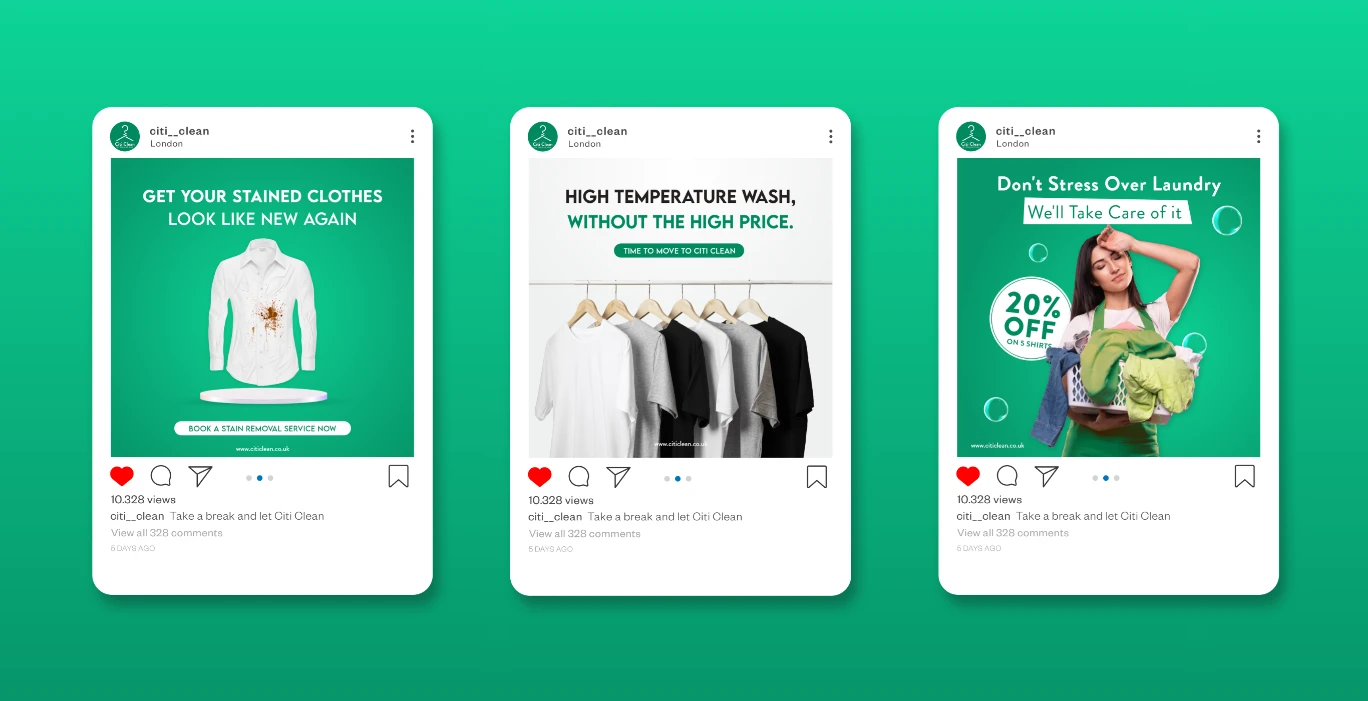 We effectively manage Citiclean's online presence...
Overseeing their social media platforms, implementing targeted Google Ads campaigns, and delivering impactful advertisements.
Our strategic approach maximizes their brand exposure, engages their audience, and drives measurable results, ensuring Citiclean stays ahead in the competitive market.
---
Designed & developed a user friendly website & CMS...
Enabling customers to conveniently place orders, schedule pickups, and make secure online payments. The custom-built CMS system simplifies operations and enhances the overall customer experience. With this website, Citiclean efficiently manages online orders and payments, making their services more accessible and convenient for their customers.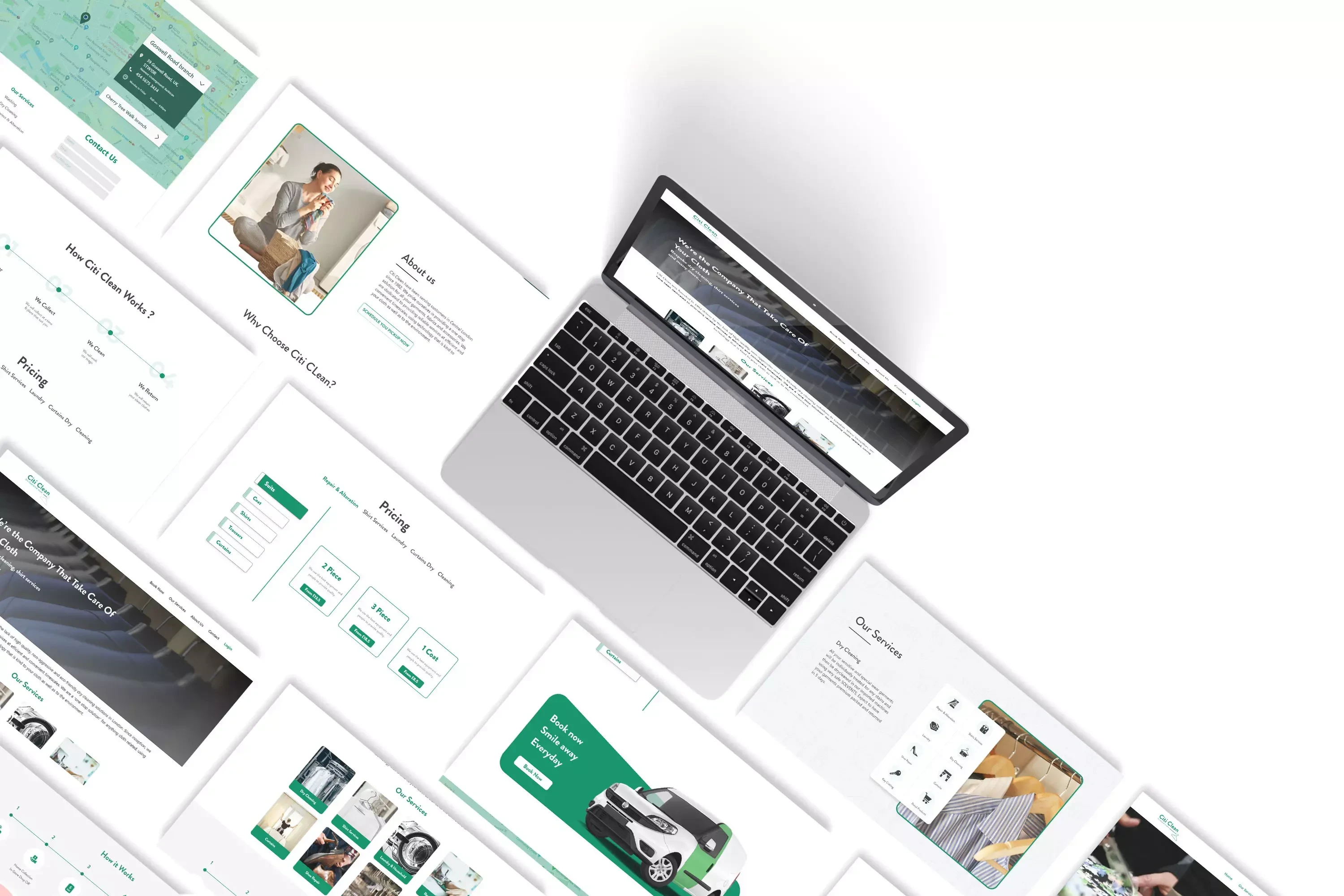 Our branding for Citiclean, a leading laundry company, encapsulates their commitment to cleanliness and excellence.
---